Half teeth
Looking for a Megalodon tooth at a low price? We offer half complete teeth here (50%). These are still spectacular, but very affordable.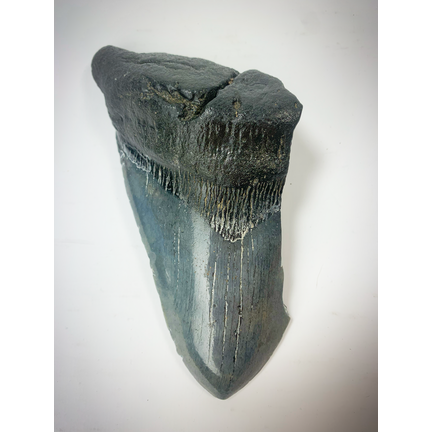 The menace of the ancient oceans, the Megalodon
The Megalodon, the menace of the ancient oceans during the Miocene to the Pliocene. The word 'Megalodon' stands for 'big teeth', a very short and clear meaning. These large teeth were used excessively on a daily basis. The Megalodon had to eat all day in order to survive. This was probably always very rough. This caused a tooth to break or fall out completely.
Half Megalodon teeth (50% complete)
We suspect that the hunts of the Megalodon were very ruthless. Sometimes a tooth could be lost or broken off. The breaking off of the teeth certainly does not make the teeth worthless. Broken teeth tell a very beautiful story. Something has happened, whether it was a hunt or a fight. They each tell their own story. Perhaps the Megalodon was in a fight with one of its kind or the Leviathan, perhaps it chipped a tooth during a hunt for large prey. So although the tooth is broken off, it still has its own story. And who knows, you may take the tooth into your collection and one day more information about the broken tooth will become available and you will be able to tell the story further.
Read more
Close