75% complete
Want to buy an almost complete Megalodon tooth? In this category you can buy beautiful Megalodon teeth that are about 75% complete. Choose your favourite now!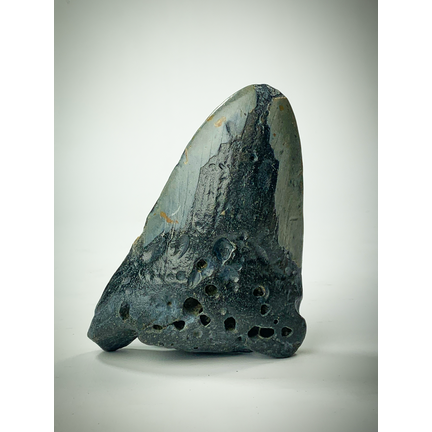 The undisputed ruler of the ocean, the Megalodon
The Megalodon, the ruler of the oceans during the Miocene to the Pliocene. Those big teeth were therefore used with great regularity on a daily basis. The Megalodon had to eat quite a lot in order to survive. In the process, the situation was occasionally very rough. This meant that sometimes a tooth broke off or fell out completely. Now we can find them all again.
Nearly complete megalodon teeth (75% complete)
As we have already mentioned, the hunts of the Megalodon were ruthless. Sometimes a tooth would be lost or broken off. However, breaking off a tooth does not mean that the teeth are worthless. Broken teeth tell a very beautiful story. Something has happened, whether it was a hunt or a fight. They each tell their own story. Perhaps the Megalodon was in a fight with one of its kind or the Leviathan, perhaps it chipped a tooth during a hunt for large prey. So although the tooth is broken, it still has its own story. And who knows, you might get it in your collection and one day more information about the broken tooth will become available and you will be able to tell the story further.
Read more
Close