Giant teeth | 14-16 cm
In this category you will find the giant Megalodon teeth. These teeth are the top 1% of finds and also the rarest. This is a wonderful addition to any collection.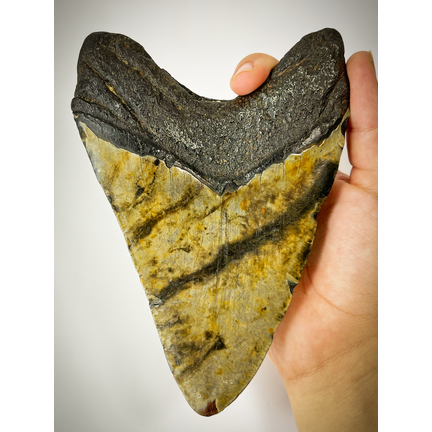 The mighty Megalodon
The Megalodon, the literal translation of this name is big teeth. A magnificent ancient creature that ruled the oceans millions of years ago. This species of shark was fearless and had no enemies. Megalodon ate tons of fish per day to stay alive. The Megalodon could grow up to 18 metres long and had a serious weight of 30,000 to 60,000 kilos. In addition, the Megalodon was known to have 5 rows of large teeth, which, if one fell out, immediately replaced it. The Megalodon therefore continued to change teeth throughout its life.
Giant teeth 14-16cm
These giant teeth are the top 1% of finds made by researchers, palaeontologists and scientists. The reason that these are the top 1% finds is because these are the largest teeth a Megalodon could have. These teeth are also the rarest and the most wanted. By the way, the following rule of thumb applies to the Megalodon tooth collection: The larger the tooth, the more expensive and the more sought-after it is. If you are a fan of collecting fossils and Megalodon teeth anyway, then the top 1% should not be missing from your collection.
Read more
Close