Giant teeth | 14-16 cm
In this category you will find the giant Megalodon teeth. These teeth are the top 1% of finds and also the rarest. This is a wonderful addition to any collection.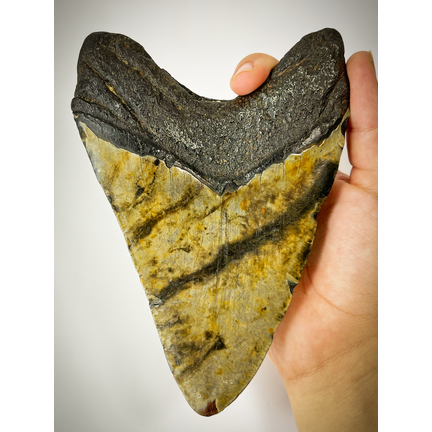 The impressive Megalodon
Imagine diving into the oceans millions of years ago and looking straight at the Megalodon.Face to face with the largest sharks that ever lived: the Megalodon. This giant shark had teeth that could be up to 16 centimetres long, and these teeth are now available at Megalodontand.co.uk.
The history of this magnificent shark
Megalodon was a species of shark that lived around 2.6 million to 1.5 million years ago. This shark was huge, expected to range from 15 to 18 metres in length. Thanks to the enormous size of the Megalodon's teeth, this shark is one of the most fascinating and terrifying prehistoric animals that ever existed.
Our extensive collection
In this category, you will find an extensive collection of these impressive teeth. Our teeth come in different sizes with the largest being teeth from 14 cm to 16 cm. The best thing about our hobby and sale is that each tooth is unique and has its own impressive features.
Besides being a valuable addition, these impressive teeth are also a wonderful piece of natural history. The teeth are still in incredibly good condition, providing an insight into the prehistory and living conditions of these impressive sharks.
High-quality fossils
All our fossils are carefully selected and checked for quality, so you are always assured of an authentic fossil. We like to keep our fossils affordable, whether you are a novice enthusiast or a seasoned collector. Our collection keeps growing, so keep an eye on our webshop for new fossils.
Our service
We are happy to help you with any questions you may have about fossils or finding the tooth for your collection. We ship our fossils not only quickly, but also insured and well-packaged to ensure that your fossil arrives in perfect condition.
Start your journey through prehistory today and discover the power and beauty of the Megalodon. Visit us for a wide selection of these impressive teeth and other magnificent fossils and gemstones.
Become part of the growing group of collectors too and discover why Megalodon teeth are so impressive. Add a piece of prehistory to your collection and have a beautiful piece of natural history in your possession forever.
Read more
Close