Opal (gems)
Have you always wanted a mysterious stone? Do you collect gemstones or fossils? Then you've come to the right place at Megalodontand.nl. We have just released a new opal line. Take a look.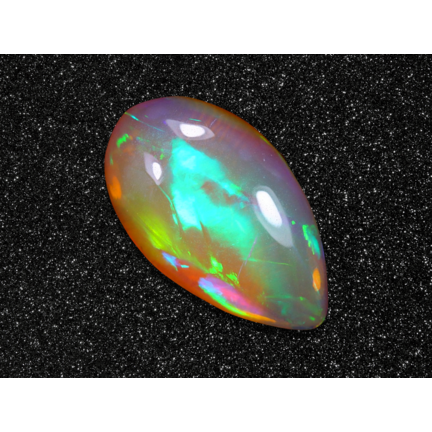 The world of Opals is a world of mystery, colours and shapes. Opals come in so many different shapes, colours and price ranges, that there is always an Opal available for everyone, and say it yourself: You definitely want something this beautiful in your collection, don't you? We are avid stone collectors ourselves and have acquired a fantastic hobby from this. Now we would like to share this same passion and hobby with the rest of the world. This is why we started selling perhaps the most beautiful stone in our collection, the opal.
Thanks to the colours they possess, opals are a real pleasure to look at and also make you wonder how a stone acquired, formed and or carries such beautiful colours.
An opal, what is it?
An opal is a gemstone and comes from the quartz family. Opals are known for being translucent and in some cases even transparent. In addition, opals have the most beautiful colour palettes, so they can also achieve 'play of colours' status. This means that that particular opal shows all the colours of the rainbow. Did you also know that opals serve as filling holes in rock formations and can also be created during fossil formation? This is an incredibly cool gemstone.
The opal and its history
Gemstones have been worked since ancient times. Opals are a great example of this. In ancient times, opal was mainly used for primitive tools. At a much later stage, you also encountered opals in jewellery. Presumably, Assyrians, Romans and Babylonians were the first to use opals. In earlier times, people wrote about opal as a magical stone that could cure various diseases without any problems. Among other things, opal is said to cure the heart or combat anxiety; it can even make blindness disappear. So the opal is not only a beautiful colourful and mysterious stone nowadays.
Use in the past
As mentioned above, opals were mostly used in the past to counter illnesses, blindness and melancholy. The opal came to Europe from the 16th century during the times of the Spanish Inquisition. Even then, the opal was seen as a stone that would bring good luck. The stone then had a small dip but has since become wildly popular again.
Care of opals
It may sound incredibly weird, caring for opals. How do you come up with it, might be the question you ask yourself. Be sure to read through this piece. This may just ensure that you can enjoy your purchased opals for an incredibly long time. In the range of gemstones, opals are perhaps one of the most fragile gemstones. Opals are known for being a lot less hard than other gemstones and therefore require more care, for example, gentle treatment. Of course, any gemstone can break, lose colour and shine at some point if not handled with care.

For example, an opal can be damaged (dried out) when exposed to chemicals and solvents for a long time. So what exactly happens when a stone dries out? The stone loses its colours. Therefore, take extra care with agents such as chlorine or even bleach. In addition, of course, do not wear opals with sports, household chores or even when working in the garden. The opal is beautiful to look at and also as jewellery. However, you obviously don't want to contaminate this one. In the garden and at home during tasks, you can of course very easily just rub/scratch along metal. Avoid damaging a beautiful stone like the opal as a result.
Ethiopian Welo opal care
Now we come to Welo opals, also known as Ethiopian opals. You will mainly find these in our webshop. The reason we have set Welo opals apart in terms of care is because these opals require slightly different care. This is because the Welo opal can absorb water. So the most important aspect with these opals is that they are not immersed in water. This can cause the Welo opals to lose their colours. Fortunately, this is nothing to be alarmed about, that's because when they are allowed to dry naturally they can regain their colours. With this, it depends entirely on how big the opal is and how long they have been in the water before they regain their colours. Therefore, avoid skin and bath oils as well. Are you dying to polish them to preserve their beautiful shine? Then use a soft dry cloth.
Order your favourite opal easily online.
At our webshop: Megalodontand.co.uk you will find a beautiful and wide range of opals. If you have found the opal that suits you best, order it easily online and pay with your preferred method of payment. We will then ensure that your favourite opal is packaged with all care, so that they arrive as beautiful as in the picture. When you spend €60, shipping is completely free!
Read more
Close