Top 10 Opals
Would you like to buy your real Opal (gem), but can't quite manage to choose? Then check out our category with the top 10 most viewed Opals and choose your favourite.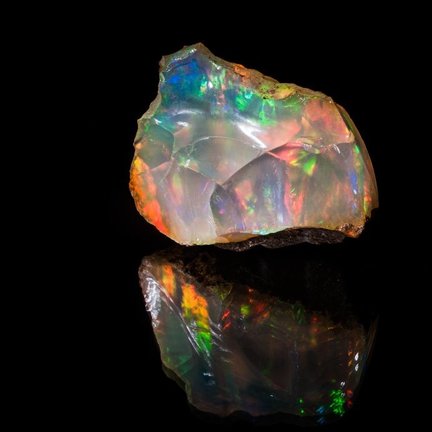 Ethiopian opals are one of the most sought-after gemstones in the world. Discovered in a district in Ethiopia, they are known for their breathtaking play of colours and unique patterns. In this category, we dive deeper into the magical world of these Ethiopian opals, their characteristics and why they are so loved by collectors and jewellery lovers worldwide.
The origins of Ethiopian opals
Ethiopia has long been known for its rich history and diverse cultural heritage. The discovery of opals in the north of the country has enriched the gemstone world with one of the most intriguing and beautiful gemstones. They were first discovered in 2008 and have since grown in popularity. These opals are formed from volcanic ash and water, resulting in a unique and colourful pattern not found in other opals.
Characteristics of Ethiopian opals
Ethiopian opals are distinguished by their stunning play of colours and patterns. They contain a wide range of colours, ranging from blue, green, yellow, orange and red. What makes these opals so special is the way their colours change and move when exposed to different light sources and angles. This phenomenon is also known as the "play of colours" and is one of the main reasons why these opals are so sought-after.
The importance of the cutting process
Polishing an opal is a crucial process to reveal the gemstone's beauty and value. Grinding Ethiopian opals involves looking at the stone's natural shape and play of colours. An experienced craftsman will carefully analyse the opal and determine how best to cut it to create the most beautiful effect. This polishing process contributes significantly to the final appearance Ethiopian opals.
Using Ethiopian opals in jewellery
Ethiopian opals are often used in different types of jewellery, such as rings, pendants, earrings and bracelets. Their unique and vibrant colours allow them to create beautiful, eye-catching pieces to match any outfit and occasion. Jewellery designers around the world are inspired by the beauty of these opals and have created countless creations that showcase the gemstones at their best.
Care and maintenance
To ensure Ethiopian opals retain their beauty and vibrancy, it is important to care and maintain them properly. These gemstones are somewhat permeable and can be affected by water. Therefore, it is recommended not to expose them to water or humid conditions. When cleaning opals, use a soft cloth to remove dust and dirt. Avoid using chemicals and ultrasonic cleaning as these methods can damage the opal.
The rarity and value of Ethiopian opals
The value of an Ethiopian opal depends on several factors, including the brightness and intensity of the colour play, pattern, size and weight of the stone. The rarity of a particular colour or pattern can increase significantly. Ethiopian opals are rare and valuable specimens that stand out for their exceptional beauty and quality.
Investing in Ethiopian opals
Besides their aesthetic appeal, Ethiopian opals are also considered a valuable investment. Because of their rarity and increasing popularity, the value of these gemstones can increase over time. However, it is important to invest in
high-quality opals.
Conclusion
Ethiopian opals are undoubtedly among the most enchanting and sought-after gemstones in the world. Their unique play of colours and rare patterns have captured the hearts of collectors and jewellery lovers around the world. Because of their beauty, rarity and value, these opals remain a popular choice for investors and gem lovers.
Read more
Close