Non-complete teeth
Looking for an impressive Megalodon tooth to start or expand your collection? Then check out our 90%, 80%, 75% and 50% teeth and buy an incomplete tooth at a great price!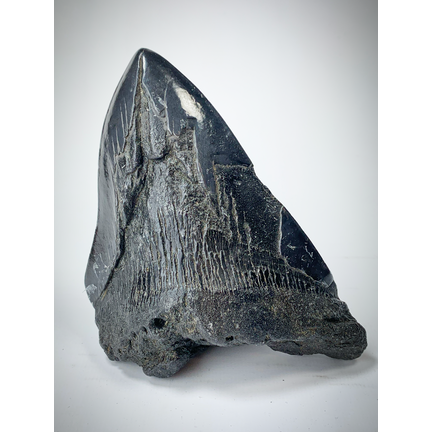 The Megalodon is perhaps the most fearsome animal in history. This incredible shark could easily reach a length of up to 18 metres, which is bizarre, isn't it? The Megalodon was undoubtedly the top of the heap in terms of the food chain of its time. How can we picture this monster? Although sharks consist of cartilage and this does not fossilise, we can still enjoy the beautiful and, most importantly, large teeth left behind by the Megalodon. Of course, complete Megalodon teeth are the rarest and therefore the most valuable, however, there is a big market for the incomplete teeth. Why is this? We are happy to explain this to you in our text.
Non-complete teeth and their charm
You might ask yourself why someone would be interested in Megalodon teeth that are not complete. Surely there are several reasons for this. We'll give you a few:
Each tooth tells its own story: Each Megalodon tooth tells its own story. This story can be extremely unique, why? The Megalodon may have been in a tough fight, but it can also tell a lot about hunting, feeding and the history of the shark in general.
Every tooth is unique: An incomplete tooth is unique at all times. What do we mean by this? A damaged or broken in half tooth has its own unique shapes. This distinguishes them from complete teeth and makes them hugely interesting for the collector who loves uniqueness.
The price difference: A non-complete Megalodon tooth is generally cheaper compared to the complete tooth. This makes them extremely suitable for the novice collector with any kind of budget.
Our mission
We at Megalodontand.nl are the specialists in Megalodon teeth. We have a wide range of complete and non-complete teeth. This is one of the things that sets us apart from our competitors.
Our collection and variety
We at Megalodontand.nl offer you a wide range of complete and non-complete Megalodon teeth. We have a wide variety of sizes and colours. All our teeth are responsibly excavated and extracted from rocks. We therefore only work with high-quality and reliable suppliers.
Origin and authenticity
As we mentioned earlier, we only work with reliable suppliers who have been in the business for years and who extract the teeth for us from the water and from the rock with the utmost care. Our suppliers can therefore guarantee us the authenticity of each tooth. This enables us to issue a COA (Certificate of Authenticity) with every tooth sold. Our teeth are sourced from Indonesia, North and South Carolina.
Conclusion
A broken Megalodon tooth is so much more than a broken relic from prehistoric times. They give us a unique picture from a time when these sharks controlled our oceans. The fragments of teeth can be as valuable and fascinating to anyone as the complete teeth.
Read more
Close