Australian opals
Take a look among the most beautiful and coveted opals in the world. Australian opals are known for sheer quality and beauty. In addition, Australian opals are a true investment.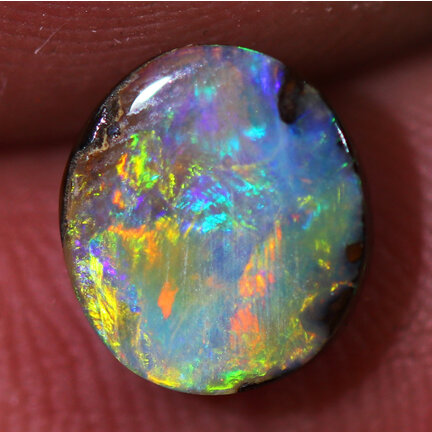 What is an Australian Opal?
An Australian opal is an extremely unique and rare gemstone, which can be found in the mines of Australia. The Australian opal is known for its beautiful and deep colours. When we start looking at opal in general, the Australian opal is the most coveted and the most exquisite of all opal types.
The history of Australian opal
The opal was first discovered in the 19th century. These opals were found in Tibooburra, New South Wales. Since this discovery, the opal's popularity has only grown. To date, Australia supplies more than 90% of the total opals on the market.
Different types of Australian opals
Australian opals come in many different varieties, each of which, of course, has its own beauty. We will now take a closer look at them.
Black Opal
Black opal is mainly found in Lightning Ridge, New South Wales. Lightning Ridge is known for the rarest and most expensive opals. The heavy opal is known for its dark base colour and in it incredibly bright and deep colours. This is what makes and highlights the black opal so distinctive.
Boulder opal
The boulder opal got its name because it is mainly found in ironstone. In turn, these stones are mainly from Queensland. Among other things, the opal can be recognised by its dark and iron matrix on the back. In addition, this opal has a vibrant play of colours.
Crystal Opal
Crystal opal again has a variation from transparent to semi-transparent. Crystal opal is known for being able to refract light perfectly. This results in the most unique, beautiful and colourful displays. Crystal opal can be found all over Australia, but is mainly found in South Australia.
How are Australian opals mined?
Besides being physical, the process of extracting opals from the ground is incredibly time-consuming. The opals are extracted from the ground by hand, which may be by means of a drill or other heavy equipment. Once the opals are extracted from the ground, it is important to polish and grind the opals as carefully as possible to preserve their beauty.
How do you care for your Australian opal?
Opals are generally incredibly sensitiveto extreme temperature fluctuations, water, falls and blows. It is therefore incredibly important that you handle opals with care and keep them safe. With opals, avoid direct sunlight and store them in a humid environment. This will prevent cracks and tears. As far as care is concerned, the same applies to Australian opals as the Ethiopian Welo opal.
What do I look out for when buying an Australian opal?
Buying an opal can be challenging, but that doesn't mean it's not a fun challenge. After all, you will be looking at the colour, pattern, size, clarity and shape. This can be a really fun and new experience. After all, you will learn to recognise opals and eventually know exactly what to look for. For example, quality opals have strong colours and often an attractive pattern. Of course, when you choose an opal, it depends incredibly on your personal preference. In general, the rule is "vibrant colours and unique patterns significantly increase the opal's value".
Conclusion
We at Megalodontand.nl are incredibly happy to now be able to offer Australian opals. An Australian opal is incredibly unique in the world of opals and also incredibly rare. They have an insane variety of colours and the most beautiful patterns. If you are looking for an Australian opal, be sure to take a look at our range.
Read more
Close